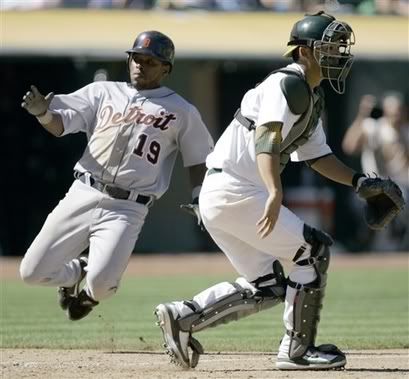 Timo Perez has been a favorite of mine for a couple years. I was somehow hoping that he'd make the team this year out of Spring Training. He did hit .333, 1, 5 in Lakeland with a .345 OBP. But a 34 year old journeyman outfielder that's played for 4 teams with non-superstar success isn't going to high on the priority list when there's kids to take a look at. But I still rooted. He didn't make it...and I guess I kinda forgot about him.
Until today. Wilkin Ramirez made his debut yesterday and did well crushing the first homerun of his career in his first MLB game. I can't wait to see more of the kid. But with Sheff being released, along with Thames and Guillen going down, I started thinking, why can't Timo get a call up? Raburn, Larish, and Clete are doing well, but Timo's my boy. Leyland even called Perez the best pinch hitter on the team this spring. Then it dawned on me...I haven't heard anything on him with the Hens this year. I am a moron.
Timo was designated for assignment in April and I'm not sure if he didn't accept it or they ended up releasing him. (Wikipedia says released.) I had thought for sure that he was heading to the Hens again, but I guess not. He's currently playing in the Mexican League for Rojos del Aguila de Veracruz. Timo's hitting .302, 1, 10 with a .393 OBP. No big surprise...that's what Timo does. In '07 with us, he was one of the few that didn't quit at the end of the year hitting .389, 0, 13, .427. Last year with the Hens, he hit .302, 13, 63, .374. What's he doing in Mexico? The Nationals couldn't use someone like him?
I'll miss you, Timo. There has to be a place for a guy like you in the Major Leagues. Sorry I forgot about you for a while. Won't happen again.
And that will be my Rick Reilly-ish jibberish for THIS month. Please tune in next time when I'll most likely be back to my usual poop humor. Good luck, Timo. Someone should have started you a Cult.