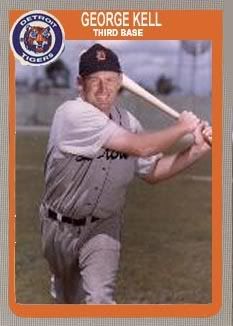 Normally, I'd leave an obituary-type piece to someone more qualified and stick to my usual brand of poop-joke-humor, but without George Kell, who died in his sleep last night, I'm not sure that I would be the baseball fan that I am today.
Kell was a ten time All-Star that despite his close association with the Tigers, only played for them from '47-'52. He started with the Philadelphia A's from '43-'46, went to Boston after Detroit from '52-'54, next went to the White Sox from '54-'56, and ended in Baltimore from '56-'57. He hit over .300 nine times and retired with a lifetime batting average of .306 with 78 homers, 870 RBI's, and 2054 hits. In 1949, Kell denied Ted Williams his third Triple Crown by barely taking the batting title the last week of the season at .343. Late in his career, he took a liner to the face off the bat of Joe DiMaggio that broke his jaw. Kell said about it, "I got up, made the play at third, then passed out." That's a ballplayer. George was elected to the Hall of Fame in 1983 by the Veteran's Committee.
After his playing career, Kell became a broadcaster, and that's where in 1985 a fat 8 year old kid in Toledo, OH with the attention span of a gnat discovered him and the Detroit Tigers on his television one day. Kell, I guess, wasn't what you'd call a great play-by-play man like Vin Scully, Ernie Harwell, Jon Miller, or whatever, but he had a down-home charm that I can't really explain when he called a game. He and Al Kaline educated me to the game and I truly came to love baseball and the Tigers listening to them call the action. When he retired some years back, listening to a game just wasn't, and still isn't, the same to me.
Thank you, George Kell. You were one of a kind.