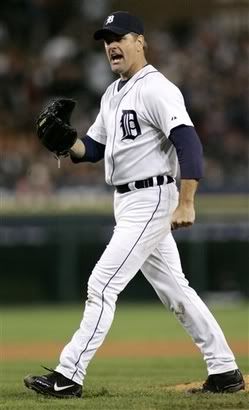 According to pitching coach, Rick Knapp, Kenny Rogers has decided to retire. 2006 never would have happened without Kenny. He was the f'n man during the playoffs. Thanks, Kenny, and enjoy your well deserved retirement. Just be sure to wipe the crap off your hands in civilian life.
Edit: It's also just come out that Sean Casey's calling it quits, too. Odd that the only two guys that showed up in the '06 Word Series for us announce their retirements at the same time. Sean's taking a job with the MLB Network and I look forward to seeing him there.

Good luck to Kenny, Sean, and Jonesey, too. If he starts out the season rough, try and take Sheff with you.